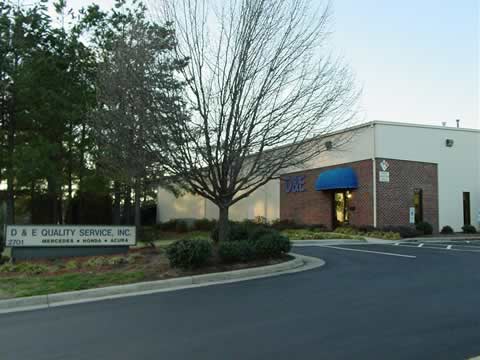 D&E Quality Service Inc. was established in 1978 and was the first independent service center for Mercedes-Benz, Honda and Acura automobiles in Raleigh, N.C. Tim Mize, one of the original partners, and his wife Mary purchased the remaining stock in 1990 and are now joint owners of D&E.
The current building was built in 1992 and is equipped with offices, a comfortable waiting room, a kitchen and conference room which are always open to the public, an up-to-date parts department and twelve bays for service. D&E is a completely computerized center.
Being a specialist means just that to D&E. We believe the most important issues to our current and future customers concerning auto repairs and maintenance are integrity, convenience, quality worksmanship and friendly personalized service. We offer prompt service and employ ASE certified technicians who receive regular training to stay up-to-date on the latest technology. We are always looking for ways to better service our customers.